What's all the fuss this morning about some cookies and creme?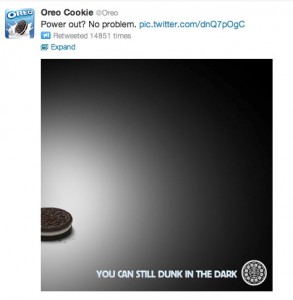 Well, if you were watching the Super Bowl, you may know the answer to that question. If you have a Twitter account and were watching the Super Bowl, you definitely know.
When the lights went out in the Superdome, things got interesting at the mission control center set up by Oreo's agency. They quickly responded with this tweet. What makes this so interesting is that not only did they respond quickly with a relevant tweet, they were able to produce branded content to go with it. Wouldn't you have loved to have been in the room watching? I wonder how many people gathered around the designer's computer as that graphic was whipped up? I can hear the cheers now as it was posted and the retweets started piling up. Hey, I was among those who were retweeting!
There are a few key takeaways here:
Social Media requires planning. The agency planned ahead to have a command center set up with Oreo execs on hand for quick approvals. Social media marketing is real-time marketing in a case like this.
Resources matter. A great idea isn't worth anything if it can't be executed. Other brands incorporated the power outage into their tweets in creative ways, but Oreo created branded content that was relevant and engaging. (If you plan, you will be sure to have the necessary resources.)
Visuals are key. Of course, it helps if you have a creative agency behind your brand. (How cool is a hashtag like #DunkInTheDark?!) Oreo also integrated Instagram into their earlier commercial, inviting consumers to submit an image to be crafted out of cookies or creme. Viewers could watch artists recreate their photos in real-time. So, I would say that visual imagery played a huge role in Oreo's social media success.
The Ravens won the Super Bowl, but it was Oreo who won the Social Media Bowl. Whether you prefer the cookie or the creme, I think we can agree that this is one smart cookie. 😉